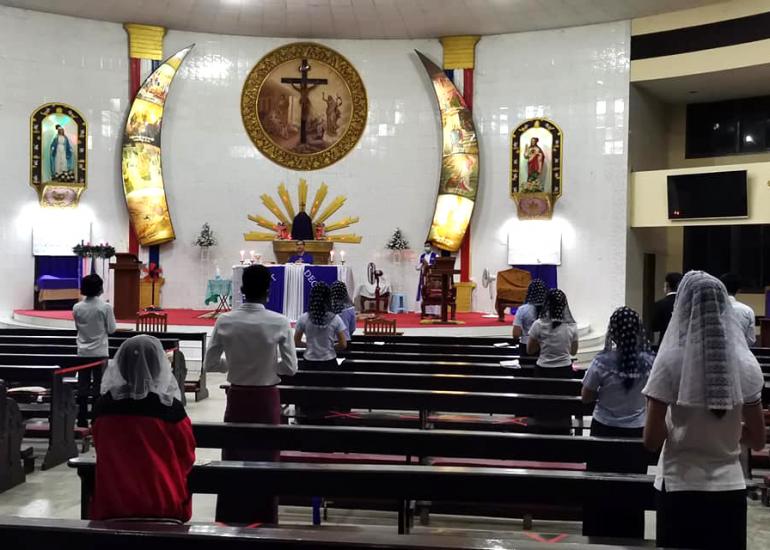 People in Myanmar showed their opposition to the military's move to take over government this week through peaceful protests that included prayers and the banging of pots and pans.
Clanging cymbals and pots is a traditional practice in the country's tribal communities where people believe that by doing so they can drive away evil spirits.
At eight o'clock in the evening in the past days, people held a noise barrage in neighborhoods of Yangon to call for peace and for the release of detained leader Aung San Suu Kyi.
"Beating a drum in Myanmar culture is like we are kicking out the devils," one protester who asked not to be named for fear of reprisal said.
In the villages, however, people were prevented from staging protests by the presence of soldiers.
In Catholic churches, people were seen praying as a show of support for calls for peace.
The Catholic Church in Myanmar has declared February 7 as a "day of prayer and fasting" for peace in the country.
"There are always nonviolent ways for expressing our protests," said Cardinal Charles Maung Bo of Yangon in a message to the people on February 3.
The cardinal has also called for dialogue, saying that peace is the only way forward in the country.
Cardinal Bo said he is praying for a durable solution to the "periodic darkness that envelops our dear nation," which he described as journeying through one of the most challenging times of its history
Cardinal Bo appealed to the people of Myanmar to stay calm, and never fall victim to violence. "We have shed enough blood," he said.
The archbishop of Yangon stressed that the country is living through a time of pandemic and pleaded with health workers not to resign their positions in protest at the current political situation.
He called on the military to treat the civilian population with "great dignity and peace."
"Let there be no violence against our dear people of Myanmar," he said. He also urged them to respect the rights of elected representatives who are currently under arrest.  
The military has began to lift restrictions on the hundreds of members of Parliament who had been confined at a guarded government housing complex.
The military coup came as lawmakers gathered in the capital for the opening of a new parliamentary session. 
The military said the seizure was necessary because the government had not acted on the military's unsubstantiated claims of fraud in November's election, in which Suu Kyi's party won a majority of seats. - Saw Hubert/RVA News