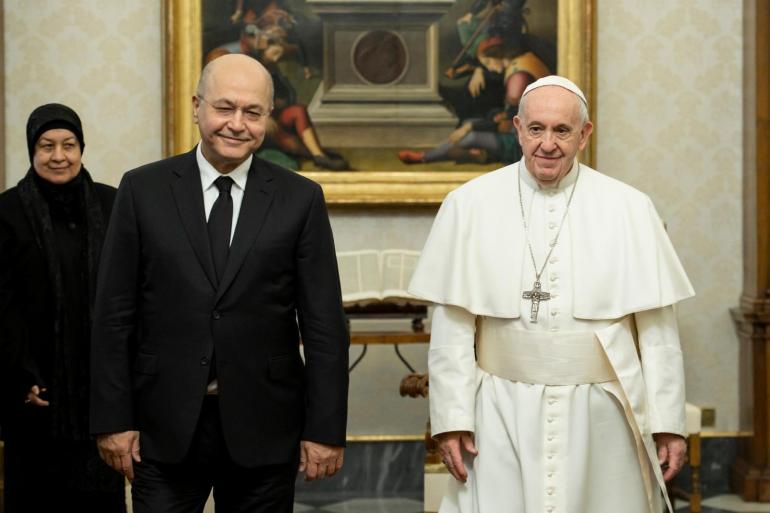 The Iraqi government has announced stringent COVID-19 precautions, including the closure of mosques and churches "until further notice," ahead of the visit of Pope Francis to the country.
Pope Francis is scheduled to visit Iraq from March 5 to 8, and he has events planned in churches each day, according to a schedule released by the Vatican.
The Iraqi government, meanwhile, announced that Prime Minister Mustafa al-Kadhimi has met with Archbishop Mitja Leskovar, papal nuncio, to discuss the preparations for the pope's visit.
Due to rising cases of COVID-19 infections, the Iraqi government has banned public funerals and weddings in event halls, and has ordered the closure of hair salons, gyms, parks and cinemas for two weeks. 
Schools are to move to an online format and restaurants are allowed to provide delivery service only.
Iraq had been experiencing a daily increase of new coronavirus infections daily since February 1. 
As of February 15, Iraq had had a total of 643,852 cases since the pandemic began a year earlier.
The Vatican did not comment on how the new restrictions would impact the planned trip — which could be postponed — or the activities of the pope, the small entourage of Vatican officials expected to travel with him and the 75 journalists accredited to the papal flight.
The pope and all those traveling with him have received or were to receive their second doses of the COVID-19 vaccine at least a week before the trip was scheduled to begin. - RVA News