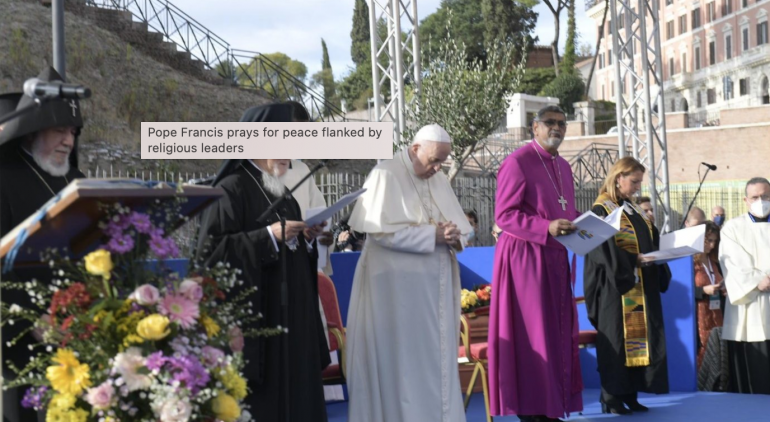 Pope Francis asked leaders of world religions to resist "the temptation to fundamentalism" for the sake of peace at an interreligious gathering Thursday in front of the Colosseum.
Peace "summons us to serve the truth and declare what is evil when it is evil, without fear or pretense, even and especially when it is committed by those who profess to follow the same creed as us," the pope said Oct. 7.
"For the sake of peace, please, in every religious tradition let us defuse the temptation to fundamentalism and every tendency to view a brother or sister as an enemy."
Speaking on a stage together with Muslim, Jewish, Buddhist, and Hindu representatives, Pope Francis appealed for peace amid the world's current conflicts.
"Dear brothers and sisters, as believers it is our responsibility to help eradicate hatred from human hearts and to condemn every form of violence. Let us unambiguously urge that arms be set aside and military spending reduced, in order to provide for humanitarian needs, and that instruments of death be turned into instruments of life," the pope commented.
"Fewer arms and more food, less hypocrisy and more transparency, more vaccines distributed fairly and fewer weapons marketed indiscriminately," he said.
The pope called prayer a source of strength that "disarms hate-filled hearts."
Ahmed el-Tayeb, the grand imam of al-Azhar in Cairo, Egypt, also spoke.
The Islamic scholar, who signed the landmark Document on Human Fraternity with Pope Francis in 2019, criticized the uneven distribution of COVID-19 vaccines throughout the world.
He said that "the world has suffered a setback despite the efforts made by religious institutions, their representatives and leadership, to foster a collaborative approach and exchange of goods, giving precedence to the public interest over private interests."
Pope Francis was speaking at the live-streamed closing ceremony of "Peoples as Brothers, Future Earth. Religions and Cultures in Dialogue," the 35th event promoted by the Sant'Egidio Community in the "spirit of Assisi," the interreligious gathering convened in St. Francis' birthplace by Pope John Paul II in 1986.
In his address, the pope said: "Today, in a globalized society that sensationalizes suffering, yet remains incapable of sympathizing with it, we need to 'construct compassion' ... We need to listen to others, make their sufferings our own, and look into their faces."
"We cannot continue to accept wars with the detachment with which we watch the evening news, but rather make an effort to see them through the eyes of the peoples involved," he said. - Catholic News Agency