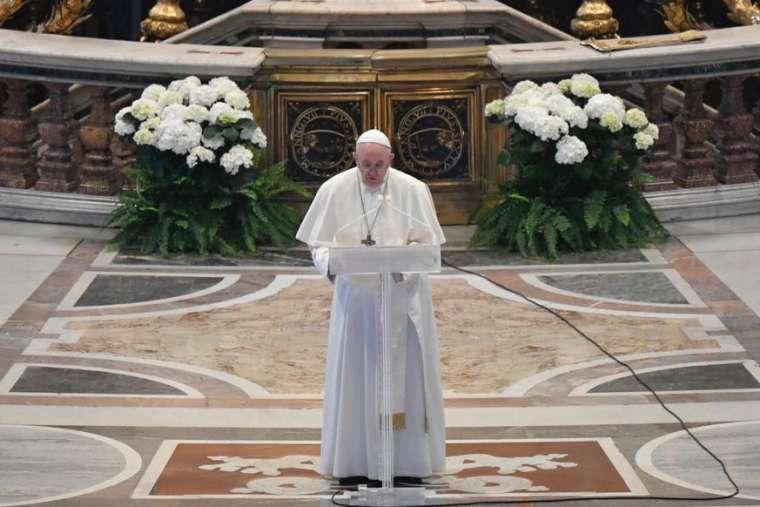 Pope Francis once again appealed for an end to bloodshed in Myanmar, saying: "Even I kneel on the streets of Myanmar and say 'stop the violence.'"
The pontiff made the call on Wednesday, March 17, during his weekly general audience, which was held inside the Vatican library due to health restrictions because of the pandemic.
"Once again, and with great sorrow, I feel it is urgent to mention the dramatic situation in Myanmar, where many people, especially the young, are losing their lives to offer hope to their country," said Pope Francis.
"I too kneel in the streets of Myanmar and say: End the violence! I too reach out my arms and say: may dialogue prevail," he added.
A video and photographs of a Catholic nun pleading with security forces on her knees not to shoot protesters last week in the Myanmar city of Myitkyina have become viral on social media.
Catholic nun Ann Rose Nu Tawng later told reporters she had told the police to spare the children and shoot her instead.
"Just shoot me if you want to. The protesters have no weapons and they are just showing their desire peacefully," the 45-year-old Xaverian nun told the police.
More than 180 protesters have been reported killed in Myanmar since the military coup on February 1, according to the group Assistance Association for Political Prisoners.
Pope Francis and various Church leaders from around the world have called on the military in Myanmar to enter into dialogue with the people to attain peace.
On February 7, the pope urged Myanmar's military leaders to show sincere willingness to serve the common good and promote social justice and national stability.  
The following day, the pontiff expressed his closeness to the people of Myanmar and lamented that the path to democracy "was brusquely interrupted" by the military coup.
Pope Francis then expressed his hope that the jailed political leaders be released.
On March 3, the pope again called on the military junta to stop the violence and called for dialogue. - LiCAS.news