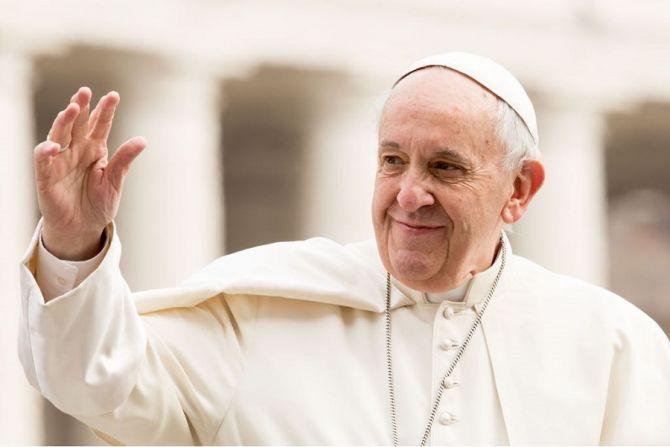 Pope Francis said on Wednesday that Christians must receive the truth of the Gospel "as it was announced," without seeking to "negotiate" with it.
Speaking at the general audience in the Vatican's Paul VI Hall on August 3, the pope said that there was no room for compromise regarding the Gospel.
"With the truth of the Gospel, one cannot negotiate. Either you receive the Gospel as it is, as it was announced, or you receive any other thing. But you cannot negotiate with the Gospel," he said.
"One cannot compromise. Faith in Jesus is not a bargaining chip: it is salvation, it is encounter, it is redemption. It cannot be sold off cheaply."
The audience was held in the Paul VI Hall because it is cooler than the San Damaso Courtyard, where the pope has held the Wednesday gatherings since he resumed general audiences with members of the public on May 12.
Pilgrims sat close together wearing face coverings, applauding frequently throughout the general audience — the pope's first since he underwent colon surgery on July 4. The pope walked into the hall, which has a capacity of 6,300 people, wearing a medical mask.
Il Sismografo, an Italian Catholic news aggregator that closely watches the Vatican, commented that the pope appeared to be "in good condition, agile, attentive, and responsive" throughout the audience.
"Exactly a month after the operation, Pope Francis appears to be in full and accelerated recovery," it said.
The pope's live-streamed address, dedicated to the theme "There is just one Gospel," was the third in a new cycle of catechesis on St. Paul's Epistle to the Galatians.
The pope began his address by observing that St. Paul was completely devoted to his mission to evangelize.
He said that this was why the Apostle's letter to the community in Galatia, in modern-day Turkey, was marked by "sadness," "disappointment," and even "bitter irony."
Paul believed that the group's members were taking the wrong path as they were convinced that when gentiles converted to Christianity, they needed to observe the Mosaic Law, including circumcision.
The pope reflected on Paul's opening warning (Galatians 1:6-8) that the community was going astray by embracing "a different gospel." - Catholic News Agency