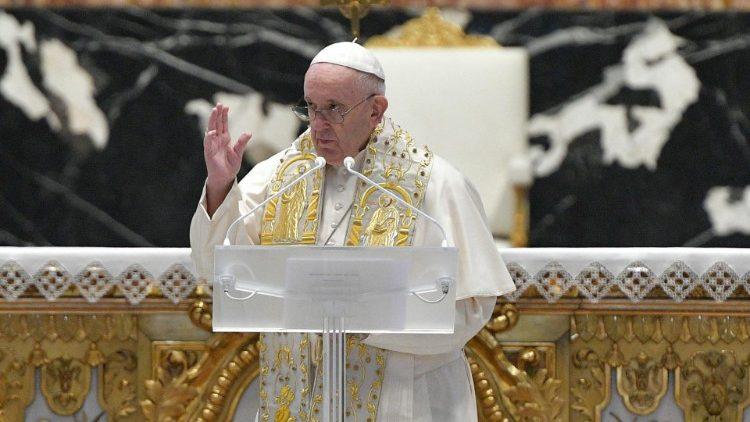 Pope Francis called on the people of Myanmar "to keep the faith" and to not allow themselves to be divided amid the conflict brought about by the military coup in the Southeast Asian country.
"In these days when your beloved country of Myanmar is experiencing violence, conflict and repression, let us ask ourselves: what we are being called to keep?" said the pontiff on Sunday.
At a special Mass for the Myanmar community in Italy on May 16, Pope Francis urged the people of Myanmar not to despair in the face of evil.
"We need to keep the faith lest we yield to grief or plunge into the despair of those who no longer see a way out," said the pontiff in his homily.
Myanmar's military seized power on February 1, derailing the country's tentative progress toward full democracy and triggering protests that have been met with a bloody crackdown.
Pope Francis, who visited the country in 2017, has repeatedly denounced the coup.
In his message on Sunday, the pontiff called on the people to draw inspiration from the final hours of Jesus Christ before his crucifixion.
"He does not resign himself to evil, he does not let himself be overwhelmed by grief, he does not retreat into the bitterness of the defeated and disappointed," he said.
He said people should not lose their faith or hope "even in the dark night of grief, even when evil seems to have the upper hand."
He also urged the people of Myanmar not to yield to "the logic of hatred and vengeance," nor to compromise their values.
The pope reminded the people in the predominantly Buddhist country to pray, saying "prayer is not a retreat, an escape, in the face of problems.
"It is the only weapon at our disposal for keeping love and hope alive amid the weapons of death," said the pope.
"It is not easy to lift our gaze when we are hurting, but faith helps us resist the temptation to turn in on ourselves," he added.
"We may want to protest, to cry out to God in our pain. We should not be afraid to do so, for this too is prayer," said Pope Francis.
He warned against the "disease of division," saying that everyone we can experience it in their hearts "and it can expand into our families, communities, even in the Church, where envy, jealousy, selfishness and judgmental attitudes abound."
The pope said "division is of the devil, the great divider," but added that people, especially Catholics are called to "promote dialogue and respect for others." - LiCAS.news