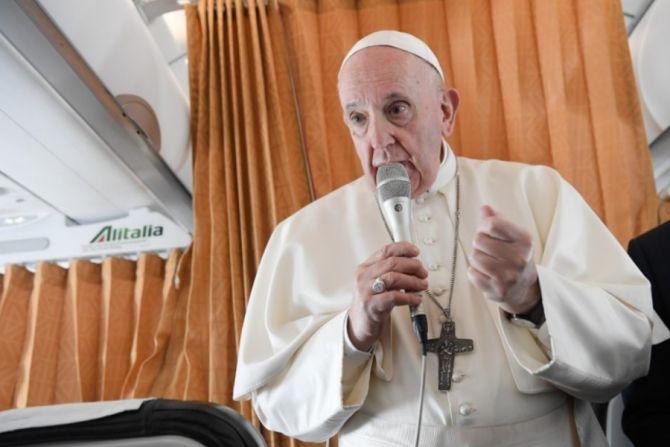 Pope Francis on Wednesday said abortion is "murder" and urged priests and bishops, especially in the United States, to be pastoral rather than political when faced with the question of who can receive Communion.
On the flight returning from Slovakia, the pope was asked for his opinion about the debate within the US Bishops' Conference, about whether President Joe Biden, who is Catholic, should be denied communion because of his support for a woman's right to choose.
"For me, I don't want to particularize […] the United States because I don't know the details well, I give the principle … Be a pastor and the pastor knows what he has to do at all times, but as a shepherd. But if he comes out of this shepherding of the Church, immediately he becomes a politician," said the pope.
Last June, the US Catholic bishops voted to draft a statement on communion that may admonish Catholic politicians, including Biden.
"Communion is not a prize for the perfect … communion is a gift, the presence of Jesus and his church," said Pope Francis.
Meanwhile, he said "abortion is murder.. Those who carry out abortions kill."
"At the third week after conception, often even before the mother is aware (of being pregnant), all the organs are already (starting to develop). It is a human life. Period. And this human life has to be respected. It is very clear," he said.
"Scientifically, it is a human life," he said.
Church law says a Catholic who procures an abortion automatically excommunicates themselves from the Church. - LiCAS.news