Asian Postcolonial-Interreligious Dialogue is essential in a pluralistic, globalized village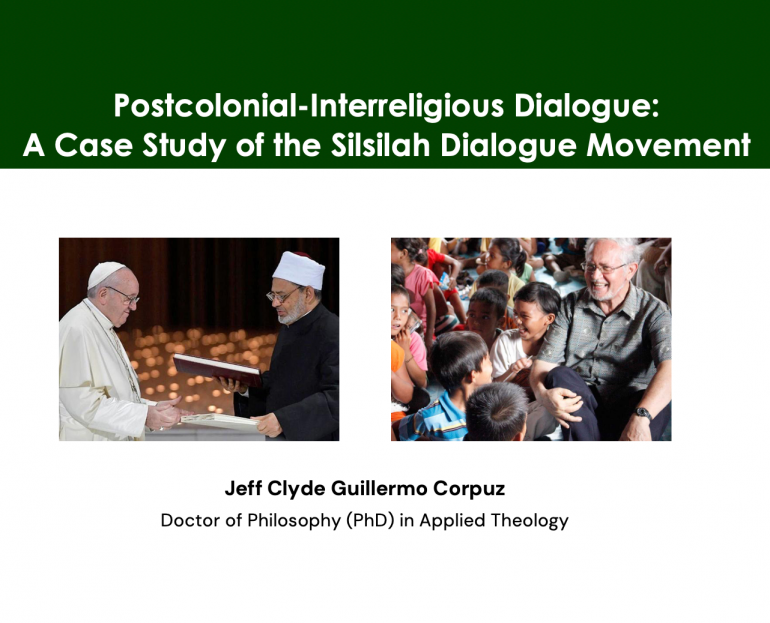 A recent Dr. Jeff Clyde G. Corpuz doctoral dissertation, defended at De La Salle University, envisions an Asian postcolonial-interreligious dialogue.
Although the Catholic Church has encouraged dialogue with other religions, especially since Vatican II, the literature on Catholic movements doing postcolonial interreligious dialogue has been minimal, said Corpuz.
Although most Asian theologians tried to present the postcolonial nature of interreligious dialogue, there is no clear and precise definition of postcolonial-interreligious dialogue in theological literature. 
"Postcolonial-interreligious dialogue challenges the Church leadership, especially at the local level, to make interreligious dialogue more inclusive regarding participation. The problem of minority representation requires a critique of both the religious, socio-cultural, and theological forms of colonialism," he explained. 
Corpuz is an assistant professor at De La Salle University, Manila. It is a private, Catholic, coeducational research university run by the Institute of the Brothers of the Christian Schools. 
The study's title was "Postcolonial-Interreligious Dialogue: A Case Study of the Silsilah Dialogue Movement."
After witnessing the conflict between Muslims and Christians in Mindanao, southern Philippines, Italian Father Sebastiano D'Ambra, a member of PIME (the Pontifical Institute for Foreign Missions), he founded the Silsilah Dialogue Movement in Zamboanga City on May 9, 1984, together with some of his Muslim and Christian friends. 
"Silsilah" is an Arabic word that means "chain" or "link."
The study's main finding is based on the works of Asian postcolonial theologians such as Peter Phan, Raimundo Panikkar, Felix Wilfred, Danny Pilario, Agnes Brazal, and Ruben Mendoza, revealing an Asian postcolonial approach to interreligious dialogue.
The key characteristics of an Asian postcolonial approach revealed the following: First, it is inclusive-pluralist. Second, it is enculturated/contextualized. Third, harmony is the goal. 
Lastly, it is liberationist. It critiques hegemonic ideological constructions that make absolutist or hegemonic claims and provides legitimacy for alternative theological views of the other.
The dissertation also examined how the Silsilah Dialogue Movement can be analyzed and further enhanced from a postcolonial, interreligious perspective. 
When asked why he chose the Silsilah Dialogue Movement, Corpuz said, "I chose it because Silsilah's approach to postcolonial and interreligious issues is marked by their commitment to dialogue, respect, and understanding." 
He says, "In the Silsilah Dialogue Movement, one finds the active participation of women and the youth, sectors not often seen in interreligious dialogues. In postcolonial discourse, these are considered subalterns."
The study employs qualitative methods such as participant observation, interviews, and focus group discussion to collect data and engage in theological discourse. The data gathered and interpreted in this research came from the insights of the members and leaders of the Silsilah Dialogue Movement. Interviews were transcribed, read, and processed using thematic analysis. 
The study also shows that the Silsilah Dialogue Movement is inclusive-pluralist in its theological stance. As an inclusive pluralists, they believe that multiple religions can coexist and complement each other through harmony and the culture of dialogue as a path to peace.
In the Silsilah Dialogue Movement, one finds the active participation of women and youth in grassroots sectors rarely seen in interreligious dialogues. Both leaders and members are allowed to sit in on formal interreligious dialogue. 
The goal of dialogue for them is harmony, which does not aim at abolishing difference (intra and interreligious differences) but rather at enriching one's religious heritage in encounters with others. They espouse a culture of dialogue (dialogue with God, self, others, and creation) as a path to peace.
The work presented in this research can be integrated with data collected as part of a larger research project on interreligious dialogue using qualitative and quantitative data. Second, the results of this dissertation can provide future studies on the role of interfaith families and people of Multiple Religious Belonging (MRB) in interreligious dialogues, especially in Asia, where dialogue is a way of life and not so much based on doctrines or dogmas. 
The study contributes to a vision of a church that is inclusive and pluralist. In the context of the ongoing synod and synodality, the image of walking together on the path to peace speaks of the culture of encounter. This culture of encounter seeks to include everyone, no matter what religion, sex, age, race, ethnicity, gender orientation, disability, or other differences may exist in interreligious dialogue.
Explaining the importance of interreligious dialogue, Corpuz said, "It is because there is a significant need to decolonize 'dialogue' which is often found in Western literature. Postcolonial-Interreligious Dialogue seeks to improve interfaith or interreligious relations in a pluralistic context, i.e., multi-faith or multi-religious contexts like in Asia."
Another issue is that predominantly male religious leaders and the elite tend to enjoy interreligious dialogue. And therefore, neglecting the subaltern, women, youth, grassroots communities, and LGBTQIA+ at the table of interreligious dialogue. 
"If we want to achieve a truly postcolonial vision of interreligious dialogue, we must go beyond the impasse it has created," he said.
Quoting Ursula King, he said, "Feminism [is] the missing dimension in the dialogue of religions." 
"I would later add that agnostics, atheists, LGBTQIA+, youth, and subalterns are the missing dimensions of interreligious dialogue," said Corpuz.
The study also contributes to interreligious and peace studies. Secondly, lessons drawn from this research can contribute to innovations and the advancement of knowledge in ecumenism and can be applied in a classroom setting. The Church in the 21st century needs to continue this dialogical journey to reach the ecumenical vision of unity in diversity, irrespective of differences. 
"Lastly, interreligious dialogue is one of the ways to do applied theology since theology refers to the practical application of theological principles and teachings in real-life situations, institutions, and communities. It is not solely based on theories and principles. It is a way of life," said Corpuz. 
---
Radio Veritas Asia (RVA), a media platform of the Catholic Church, aims to share Christ. RVA started in 1969 as a continental Catholic radio station to serve Asian countries in their respective local language, thus earning the tag "the Voice of Asian Christianity."  Responding to the emerging context, RVA embraced media platforms to connect with the global Asian audience via its 21 language websites and various social media platforms.