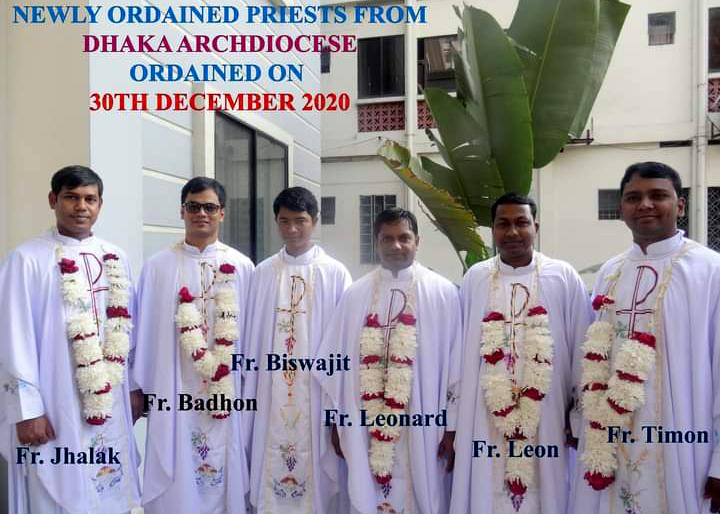 The Archdiocese of Dhaka in Bangladesh has ordained seven new priests — four diocesan, two from the Holy Cross congregation — on Dec. 30, 2020.
"People have high expectations of priests, that is, a priest should be holy, priests must be as holy as Jesus," said Archbishop Bejoy N. D'Cruze of Dhaka in his homily during the ordination.
"Priests must be converted to Jesus through service and prayer," he said, adding that it is through the holiness of priests that their lives become meaningful.
The new priests are Fathers Leonard Anthony Rozario, Leon Xavier Rozario, Biswajit Bernard Bormon, Timon Gomes, Jhalak Desai, CSC, and Badhon Rozario, CSC, and 
Father Bormon, from the Kewachala parish in Gazipur, is the first ethnic Koch to become a priest in Bangladesh. The 32-year-old priest was born to a Hindu family and was baptized in 2002. 
Bangladesh is home to 117,000 ethnic Koch, about a thousand of whom embraced Christianity.
"God selected me from my mother's womb to be a priest," said Father Bormon. 
"This is a great joy because I am not worthy enough to become a priest but God made me worthy for His holy ministry. So, please pray for me and for my priestly ministry," he said. 
Father Bormon will celebrate his Thanksgiving Mass on January 8 in his parish in Kewachala. - Nikhil Gomez / RVA News