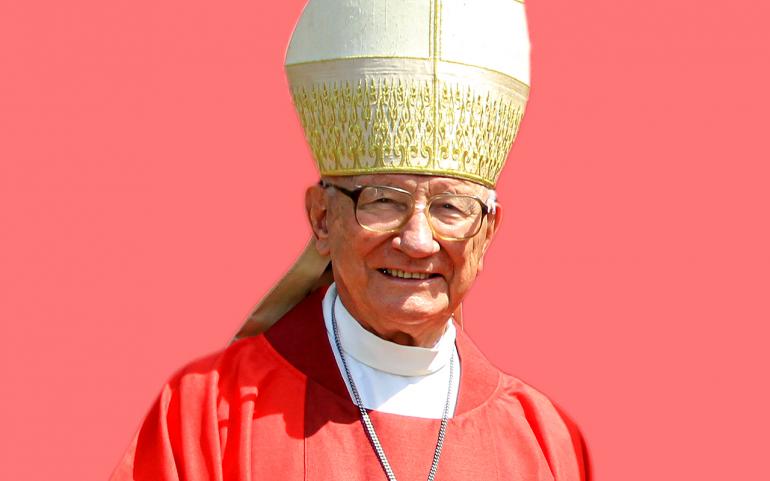 Bishop Yves Ramousse, former apostolic vicar of Phnom Penh, died on Friday, February 26, at the age of 93, due to complications brought about by COVID-19.
Bishop Ramousse was apostolic vicar of Phnom Penh from 1962 to 1976 and from 1992 to 2001.
The prelate spent most of his life in Cambodia where he was first sent as a missionary in March 1957.
Upon his arrival, he learned Khmer and Vietnamese before becoming a professor of ethics at the major seminary of Saigon then of philosophy at the minor seminary of Phnom Penh.
After a brief return to France, he was appointed apostolic vicar of Phnom Penh. He participated in the Second Vatican Council where he met with the bishops of Laos to form in 1968 the Episcopal Conference of Laos and Cambodia.
He introduced in the Church of Cambodia the changes contained in the new liturgical constitution "Sacrosanctum Concilium," asking priests to celebrate in Khmer and replacing for newcomers the Vietnamese study by that of Khmer.
Bishop Ramousse created with the agreement of the Holy See two apostolic prefectures within the vicariate of Phom Penh in Battambang and Kampong Cham. He also founded a major seminary on the Chrouy Changvar peninsula, opposite Phom Penh.
When civil war broke out in 1970, the Vietnamese, who made up the majority of Catholics in the country, fled. 
The advance of the Khmer Rouge at the beginning of 1975 forced the bishop to invite the last missionaries present to take one of the last medical planes. However, he remained in the country for another five weeks.
He returned to his mission in Indonesia, resigning from his office as vicar apostolic, and took care of refugees. He also alerted the Vatican to the situation of Khmer Christians.
On Jan. 6, 1983, the Congregation for the Evangelization of Peoples created and entrusted the Office for the Promotion of the Apostolate to Cambodians. The aim  is to create chaplaincies within the framework of the pastoral care of migrants.
The 1991 Paris Accords ended the civil war and King Sihanouk was reestablished on his throne. But after 15 years of communist rule and twenty years of war, the Catholic Church was no more than a shadow of itself. Most of the shrines were destroyed, the faithful dead or scattered. All Cambodian priests and religious have disappeared in the turmoil.
Bishop Ramousse was again appointed apostolic vicar in 1992. He also held the office of apostolic administrator of Battambang until 2000.
He remained in Cambodia until 2013 in the parish of Siahnoukville where he continued his priesthood. He later returned to France, to Montbeton. - RVA News