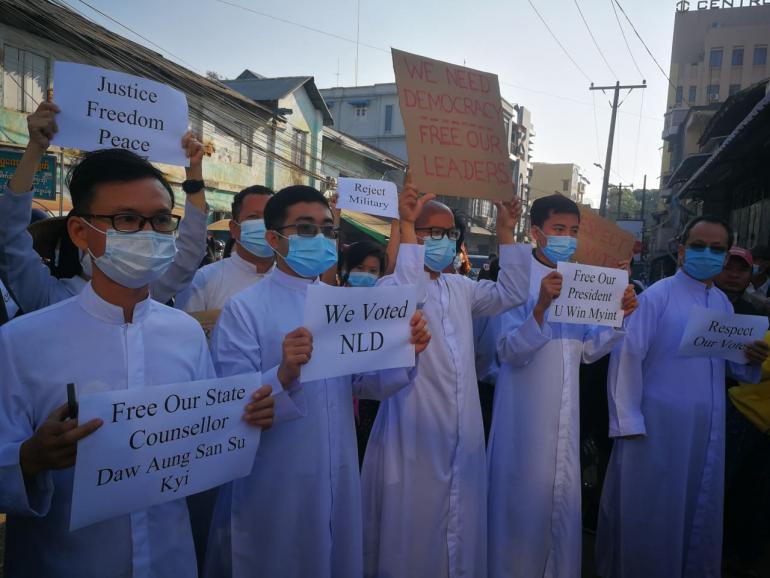 Catholic priests and nuns in the Diocese of Pathein in Myanmar came out in the streets this week to show support and solidarity for the call for peace and democracy in the country.
"Now we stand with the people of Myanmar in their sufferings. We want our country to get a pure democracy," said Father Vicent Myo Min Soe of Pathein.
"We want to show the military government that we cannot accept the military coup," he said, adding that they also call for the release State Counselor Aung San Suu Kyi and President Win Myint.
"For justice we are here with the people," said the priest.
Deacon Gabriel said he joined the protests "as a citizen."
"I express my desire and raise my voice. With the intention of true justice, I stand with the people," said the future priest.
"We cannot live under military rule anymore," said Sister Daniella, a Catholic nun. "We have to live under military rule for over 70 years already," she said.
"We are with people today," said Father Columba Tun Lin. "For our country and our future, we will stand together with the people," he said.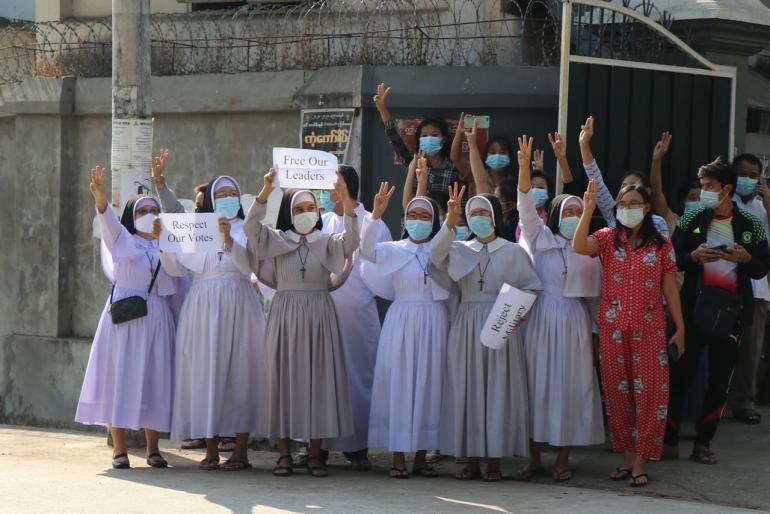 In a report, however, Myanmar military reportedly went on a "charm offensive" aimed at religious groups in the wake of the military coup.
Military chief Min Aung Hlaing has reportedly reached out to various religious groups, including Catholic Church leaders.
The generals have already reportedly met with Cardinal Charles Bo of Yangon and Bishop John Saw Yaw Han purportedly to distribute COVID-19 relief items.
The generals also visited churches in Mandalay and Myitkyina and reached out to Buddhist monasteries to provide rice bags and medical items, according to a report from UCA News.
The "charm offensive" came after Myanmar's military drew strong condemnation from the international community following the coup that overthrew Aung San Suu Kyi's government.
The military justified the seizure of power on grounds that last year's elections were marred by voting irregularities.
Pope Francis has earlier issued a statement expressing solidarity with the people of Myanmar.
Cardinal Bo, meanwhile, has called on military leaders to release all detained political leaders and pursue dialogue in the conflict-torn nation after decades of civil wars. - RVA News