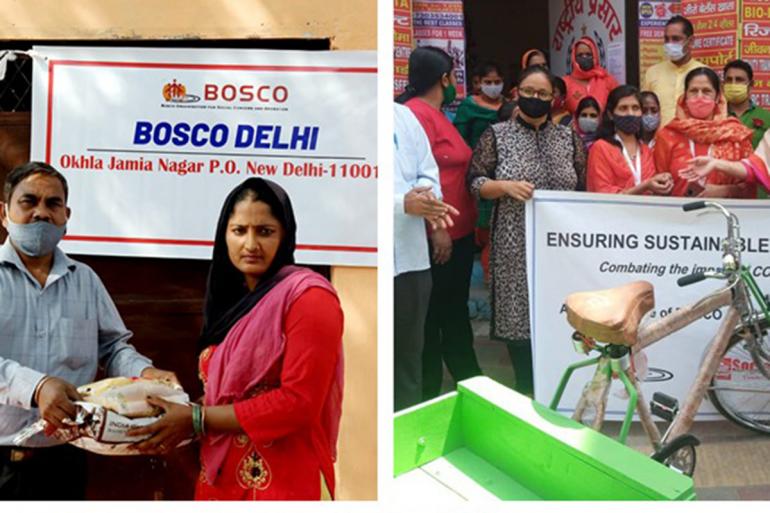 The Salesians of Don Bosco is among religious congregations in India that have been in the forefront in responding to the needs of the most vulnerable during the pandemic.
The Don Bosco Organisation for Social Concern and Operation of the Salesian Province of New Delhi has already distributed essential food packs to support 700 families. 
The organization plans to reach out to 10,000 families during the month of May.
It has also given at least 200 migrants and refugees in Delhi cash assistance of INR3,000 each to meet basic needs.
BOSCO Delhi is also reaching out to another 500 vulnerable families, especially those headed by women and the elderly without support. 
Funeral assistance of INR7,000 has been given to 11 families who lost their loved ones due to COVID-19.
The organization is also in the process of procuring oxygen concentrators and beds for five charity hospitals in Delhi that will offer free service to the needy.
An online counselling program with a team of psychologists and trained counsellors have also reached out to at least 303 individuals.
BOSCO Delhi received from the South Korean Embassy 450,000 masks that are being distributed to people.
A dedicated team of medical workers has helped 1,041 individuals access various hospital services while online consultations were offered for patients.
A sister initiative, the Don Bosco for Migrants, has launched an all-India helpline for migrant workers.
The helpline was launched by Father Biju Michael, regional councilor of the Salesians for South Asia.
''We have in mind our brothers and sisters who are migrant workers," said Father Tony Pellissery, executive director of Don Bosco National Forum for the Young at Risk.
"But any other vulnerable or needy group can also contact. We will do the best to reach out and connect,'' said the priest. - Frank Krishner/RVA News