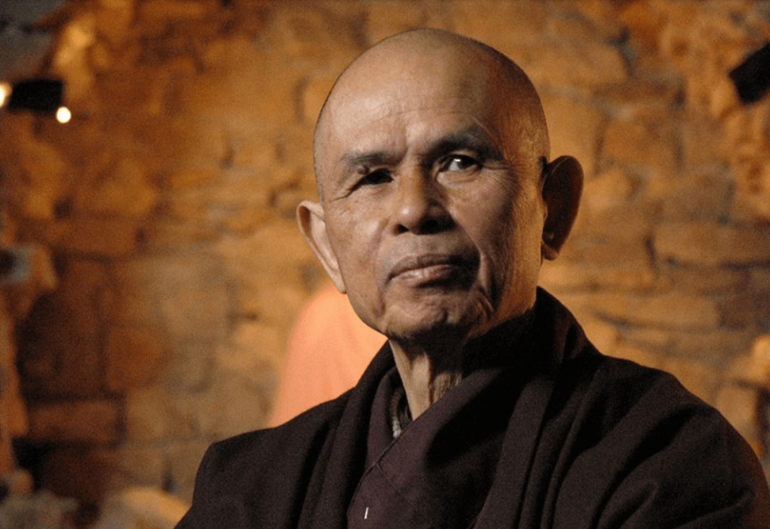 A Vietnamese monk who promoted mindfulness in the Western world died at Từ Hiếu Pagoda, the Buddhist temple in Hue, Vietnam on Jan 22. He was 95. 
Thích Nhất Hạnh's numerous writings on Buddhist ideas and practices were popular among millions of people.
Father Peter C. Phan, a leading theologian from Vietnam, says Nhất Hạnh (better known as "Thây" to his followers) has deeply influenced people around the world. The monk was known for his "peace and justice work."
According to the priest, Nhất Hạnh provided spiritual guidance to millions of people from various religious backgrounds. 
Nhất Hạnh, a 'father of mindfulness', wrote more than 100 books in English. His books are translated into 50 languages. His last book was published in 2021. Most books were "manuals on meditation, mindfulness and engaged Buddhism, poems, children's stories and commentaries on ancient Buddhist texts, exposing the West to new Eastern meditation practices," reports www.ncronline.org. 
The most famous books include The Miracle of Mindfulness; Living Buddha, Living Christ; Being Peace, and Peace Is Every Breath.  
The monk's scholarly works through his teachings and writings would serve as a source of "wisdom and insight" for all—ordinary people, religious scholars, and theologians of all religions, says Phan, a Vietnamese-born American Catholic theologian.
Many leading men and women of the world have hailed Nhất Hạnh and his contribution to the promotion of "nonviolence as a way of life while teaching his mindfulness meditation practices," says Thomas C. Fox, a former editor, and publisher of National Catholic Reporter, a US-based newspaper.  
Nhất Hạnh is also deemed as "the second best known Buddhist teacher in the contemporary world after the Dalai Lama," adds Fox who met the monk for the first time in Paris, France in 1968. At that time, "Nhất Hạnh was in Paris as the head of the Vietnamese Buddhist Peace Delegation."
Martin Luther King Jr., an American Baptist minister, was influenced by Nhất Hạnh, especially in terms of the promotion of peace and non-violence, and called him a friend.
In 1967, the former nominated the monk for Nobel Peace Prize.
The civil rights leader King described the Zen monk, as "an apostle of peace and non-violence." 
Oprah Gail Winfrey, a noted American talk show host, interviewed Nhất Hạnh in May 2013. 
According to her, Nhất Hạnh had deeply influenced Winfrey's thinking. She said, "She kept a copy of Living Buddha, Living Christ at her bedside."
At the age of 16, Nhất Hạnh began his monastic journey at Từ Hiếu Pagoda, the Buddhist temple in Hue, Vietnam, where he spent the last days of his life since 2019 after he returned from France. 
Since 1960, Nhất Hạnh was in exile in France after opposing the Vietnam war. He lived in France for over 50 years. However, he traveled extensively around the world where he held retreats and mindfulness workshops.
According to him, mindfulness is the core of holiness through which one experiences the presence of God and the presence of the moment in which the energy of the mind is synched with that of the body. It generates peace of mind and deep awareness of the meaning of the act one does. 
Nhất Hạnh was born in 1926. At the age of 7 or 8, he was attracted to Buddhism after he saw an image of Buddha. Since then, he was drawn to become a monk and joined the Từ Hiếu temple in Hue in 1942.
Vietnam's revolutionary leader Ho Chi Minh ordained Nhất Hạnh as a monk, who gradually make efforts to free the south-east Asian country from the colonial ruler—France.  
Born Nguyen Xuan Bao in 1926, Thich Nhat Hanh was ordained as a monk as Vietnam's revolutionary leader Ho Chi Minh was beginning efforts to liberate the south-east Asian country from the French. 
In the 1950s, the young Nhất Hạnh joined a movement to renew Vietnamese Buddhism. He studied at a public university in Saigon.
In 1961 he went to the USA and studied comparative religions at Princeton University. Later, he taught Buddhism at Columbia University.
After two years, he returned to Vietnam and started the School of Youth for Social Service. It promoted a combination of "traditional Buddhist practices with service in society."
Imbued with mindfulness, Nhất Hạnh, who spoke seven languages, committed to building "a better world" through enhanced compassion and promotion of service in the common good.
After a few years, he revitalized Buddhism practice and coined a new term "engaged Buddhism" based on his Book "Vietnam: Lotus in a Sea of Fire" (1967). 
Engaged Buddhism has 14 principles. Some of them include speaking the truth and positively, not using the Buddhist community for personal gain or profit, no vocation to harm humans and nature, living a compassionate life, protecting life, and preventing war.
In 1966, Nhất Hạnh and his students called for the reconciliation between South and North Vietnam. But, his efforts were not easy.
Meanwhile, "the Fellowship of Reconciliation, an umbrella group of nonviolent organizations dating to the mid-1930s, invited him in 1966 to visit the U.S.," says Fox. 
During this visit, Nhất Hạnh met Martin Luther King and Trappist monk Thomas Merton, a Catholic priest and social activist. 
In Jubilee magazine, published in August 1966, Merton titled the essay as "Nhất Hạnh Is My Brother."
From the US, Nhất Hạnh went back to Europe. He also met Pope Paul VI. Both religious leaders called on to strengthen "cooperation between Catholics and Buddhists to help bring about world peace, starting with ending the conflict in Vietnam," says Fox. 
Being exiled in France, he founded an international retreat center, known as Plum Village, near Bordeaux in southwest France, his first Western monastic community. For decades, that would be his new home, according to Fox, an American Catholic journalist. 
Fox attended a week-long retreat at Plum Village in 1993 to write an article. 
Nhất Hạnh traveled to Vietnam in 2005, 2007, and 2008. Some of these trips created controversy in Vietnam due to the prevailing political situation at that time.
In recent times, Nhất Hạnh spoke on the ecological crisis and the need to save the planet. 
Before his 88 birthday, in Nov 2014, his health deteriorated and had a severe stroke in a hospital in Bordeaux, France. Consequently, he could not speak properly and got paralyzed.
"He was flown to the University of California San Francisco Hospital for treatment and recovery, eventually returning to France. In November 2019, he left France for the last time, stopping in Thailand before flying home to Hue to live out his last days," says Fox.
The funeral service begins on January 22 and will last for five days as per the Buddhist tradition. 
(With inputs from of National Catholic Reporter) 
---
Radio Veritas Asia (RVA), a media platform of the Catholic Church, aims to share Christ. RVA started in 1969 as a continental Catholic radio station to serve Asian countries in their respective local language, thus earning the tag "the Voice of Asian Christianity."  Responding to the emerging context, RVA embraced media platforms to connect with the global Asian audience via its 21 language websites and various social media platforms.