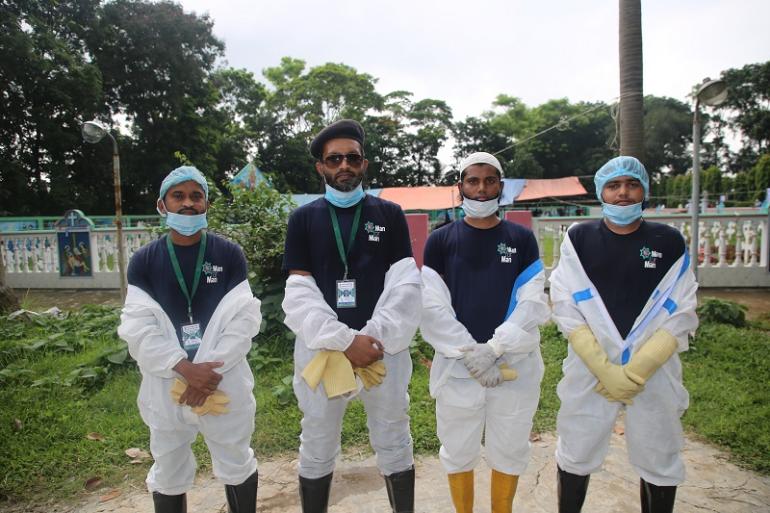 When everyone is afraid to leave their homes due to the pandemic, a group of young people in Bangladesh set out in a unique mission: to bury those who died of the new coronavirus disease.
The came forward to serve. The call themselves the "Man for Man Force." They take care of the remains of those who died — washing and burying them. 
They take care of everyone irrespective of race, religion or caste.
"Even the closest relatives do not want to go near the corpse of those who died of coronavirus, they do not even want to touch it," noted Rajibul Islam, leader of "Man to Man".
"That is why we have been burying the bodies of people of any religion since the start of the pandemic," he said.
"We think the religion of humanity is the greatest religion," he added.
On July 5, Muslim volunteers of the "Force" interred the remains of two Christians in the district of Savar in Dhaka.
Rajib said his organization has also been holding awareness activities, especially reminding people not to go out of their homes unnecessarily.
To date, the group has about 50 volunteers.
The "Force" has already set up a protocol with authorities who would inform the group if someone dies of the new coronavirus disease.
Rajib's team would then take care of all the funeral arrangements, including the washing of the body of the dead and burying it.
He said the pandemic is a "global challenge" and people of all faiths should unite to fight it.
Their good work is laudable especially during this difficult situation," said Father Albert Rozario, parish priest of Dharenda Catholic Church.
He said that in his parish alone the "Man for Man Force" has already buried several people who died of the disease.
"We are grateful to them. They are giving a very good service and their work shows us that humanity is the greatest religion," said the priest. - RVA News