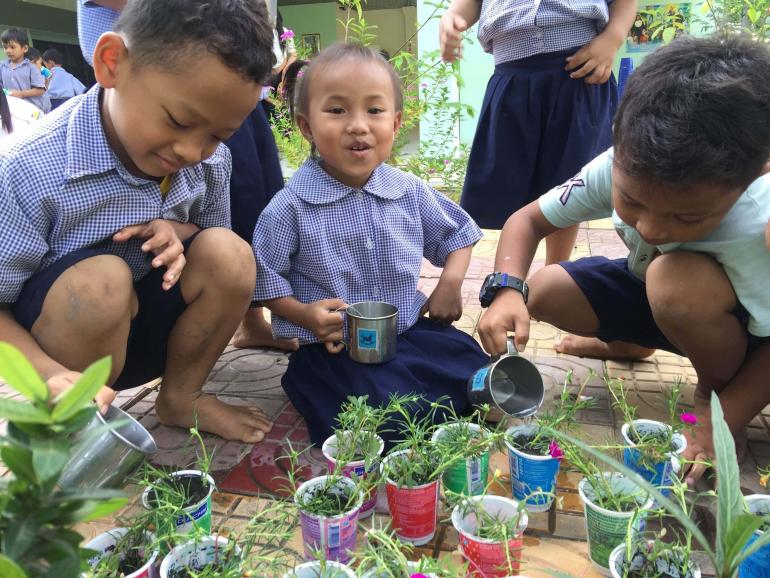 Salesian Sisters in Tuol Kork, Cambodia's capital Phnom Penh have launched an eco-friendly project involving students, students' parents, and alumni to raise funds to support the earthquake victims in Haiti. 
The project began to raise funds for Haiti and promote environmental awareness in Tuol Kork, four kilometres south of Phnom Penh, Cambodia's capital.
"We started the project to raise funds for Haiti as well as promote environmental awareness," said Sister Maria Tang Sovathanak Neath, the principal of Don Bosco Vocational Training for Girls.
Sister Amanda Lopez Alvarado, director of the school, said that they "were inspired to start the project by Pope Francis' call to care for our common home, and our desire to give hope to the poor in Haiti." 
The nuns were able to motivate students and parents to plant trees, buy saplings and flower plants. The project adopted the slogan "Go Green for a Cause – a Plant in your Home." Students prepared small plants in flowerpots and sold them to raise funds. Some activities were done online due to the pandemic. 
"Since we know that at this moment, the people in Haiti face a big challenge in rebuilding infrastructure, our small contribution may be of some help. We want the young to be back to school and continue their education soon," said Seyla Sie, one program organizers. 
The project was posted on the Facebook page of the Don Bosco Vocational Training Center for Girls, Tuol Kork, Phnom Penh.
"We were overwhelmed by the generous response of our students, alumni, and friends," said Sr Neath. "It was moving to see the children happily holding their little plants and taking them home." 
The school's students and alumni applauded the work.
"I feel happy that I am contributing to a good cause," said Phoung Lumorng, a former student.
"Helping others make us happy, and when we give, we receive more," said  Vet Chheangrai, a student in Computer Secretarial Course.  - Ophriini Lohrii