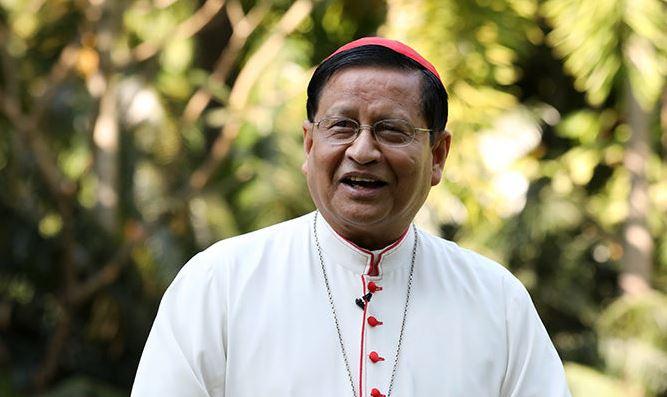 This is a homily delivered by Cardinal Charles Maung Bo, SDB, Archbishop of Yangon, on October 25, 2020
First reading: Exodus: 22:20-26 "If you wrong the widow and orphan, my wrath will  flare up against you.
Second reading: 1 Thess 1: 5-10 "You have turned away from idols and now serving the living and true God"
Gospel: Mt: 22: 34-40 "You shall love the Lord, Your God with all your heart  and love your neighbour as yourself"
Dear Brothers and Sisters in Christ, Fratelli  Tutti, ( Brothers all)
In the powerful name of the living, loving and liberating God I wish you all graces – the gift of good health, the gift of peace of mind, the gift of meeting all your basic necessities. During these challenging times, let our hearts be strengthened with the boldness of faith. Let us joyfully proclaim with Apostle Paul: "If God is with us who can be against us!"
As the darkness of the COVID cloud continues to hover over us, people of Myanmar and the Church are trying to dispel that darkness of despair with the light of compassion. Like Jesus who was moved by the hunger of the people and fed five thousand people, Myanmar Church is reaching out to those in great need. Every parish is requested to look after at least 50 families for the coming months. The Church will reach out to thousands of families in the coming months.
We have offered our buildings to be used as quarantine centers. We deeply appreciate the volunteers, sisters and seminarians who will be working in the quarantine centers. The Church will not suffer in silence, it will listen to the cry of Pope Francis raised in the latest  encyclical: Be the good Samaritan to the wounded humanity. Let Love be shown  in action.
Today's readings are the heart of Christianity. Three readings brings the essence of our faith. The message is simple: God is love, If you have faith in God, Love one another. Before God revealed himself, human beings thought of God as a terror, a tyrant who seeks human sacrifice.  Fear and anxiety gripped everyone in the presence of God. Old Testament is presented even today with a God who is angry, vengeful and blood thirsty God - collaborating with one tribe to kill other tribes.
The Jews presented God as a merciless law giver. There were more than 600 laws in the Torah – the five books of the Old Testament. Everything meticulously controlled by law, stitching a torn cloth to killing the enemy was governed by 'sacred laws.' Killing had a sacred guidance: An Eye for an Eye, a tooth for a tooth. Avenge all killings. Never forgive your enemy.
These were false Gods, the idols human imagination made. Paul points out this in the second reading. Sadly today many of the Pentecostal pastors continue to preach that blood thirsty God who is waiting to throw millions into everlasting fire. As the pandemic dances along the streets of the world, the Christian Gospel is manipulated as a narrative of hatred and anxiety. Preachers speak of end times, rapture when God would come to take the chosen and abandon all other people. But the Pope preaches a merciful God. A God of Love. A God who is closer to all of us more than ever. A God of Justice who wants a new Post-COVID world. The God Moses experienced on the Sinai Mountain reveals himself as
I am the Lord your God;  full of compassion, slow to Anger
Yes brothers and sisters, as we sail through the stormy seas of anxiety and despair, let faith be our vaccine. The faith that believes in a God who appears through the burning bush of hopelessness, disease and death and proclaims: I am the Lord who called you out of your mother's womb. Our God is a restless God, restless with an abounding and unconditional love.  He is the Lord amidst all the gripping  sadness and darkness, tenderly with a maternal love assures us
Will a mother forget her Child? Even if she forgets that I will never forget you!
God's love is not only unconditional love; it is a preferential love, a pastorally love for the least and the lost. Today's first reading brings this out in a very moving way: If you wrong the widow and orphan, my wrath will flare up against you! Yes. God gets angry when the poor and the vulnerable are wronged. The Anawim of Yahweh, the poor of Yahweh are protected by God. Those who are against the poor will be destroyed by God. Pope Francis has made it  crystal clear: a Church that forgets the poor will be forgotten by God. Pope Francis has brought to the notice of the church and to an uncaring world, the tears and brokenness of the migrants, widows and those pushed to the margins of the society. He has brought to notice of the world's conscience the permanent pandemic of poverty, displacement, war and neglect of those considered as useless to the society.
That Church, as St Paul points out, becomes the idol worshippers. The idol worshippers of the prosperity Gospels, the idol worshiping Evangelicals of rich countries who call our Pope as socialist for his pleadings for a new world order that brings the cry of the poor and the cry of the earth to the heart of humanity.
Today we come to celebrate  our God, who can be defined in simple way: God is love, Love is God. The only meaning of existing as Christian is to love. The full time vocation of every Christian is to love, fall in love, stay in love. St Paul will wax with joy in his Poem of Love: Love will determine every thing. Christianity is a four letter religion, Fratelli Tutti. This is the God St John defines gloriously:
God so loved the world, that he gave his only Son Not ... to condemn but to redeem. ( John 3:16).
God's love looks like mad love. Abraham was willing to offer his son as a sacrifice. But God stopped that. But when his own Son cried out  from the Cross  "Lord, my God, why have you forsaken me?" God chose to let him die.
Not that he loved his Son less, but he loves humanity, you and me, more. That is God's Love. He is our way maker; miracle worker;  even when we forget He continues to labour in love for our welfare. Our God is Love; that is the new covenant with you and me. I give a new Covenant, Jesus says: Love one another as I loved you. 
Jesus liberated us from all the old Pharisaical laws. Law brought sin, as St Paul observed. Love brings grace. Love ought to be shown in actions. Love without action is dead, utmost an empty drama. 
Christianity is love in action. Very simple laws: Love God because he is our origin and destination. In Him, With Him and Through Him. He is our Alpha, He is our Omega. We came from him, we will return to him. Humanity is God's love in action.
Loving God: most of the people are comfortable with this commandment. But St John asks a troubling question: If you say you love God but hate your brother, are you a real believer? No. If we cannot love our brothers and sisters, whom we see everyday, how can we love God whom we do not see? Those who do not love are the real atheists, condemned to hell of hatred. Accordingly some who claim to be Christians and show no love in their daily lives are worse than hardcore atheists who do not believe in God but do many good to the suffering humanity.
COVID, as Pope Francis pointed out, exposed how humane we are. Are we moved by the suffering of those infected? Are our hearts moved by the tears and brokenness of the families those lost their dear ones? Did our hands reached out with generosity to those poor who lost their livelihood and for whom every meal is a big way of the Cross? We can only survive the Pandemic only through our concern for others. Loving others is the major challenge today when we are asked to keep social distance, cannot smile at others, shake hands, hug our dear ones. This is  the time  for talking with the heart. Lockdown is the time for opening our hearts, first to our families, then to our neighbors. Love has no lockdown.
Church in Myanmar will inspire Catholics in Myanmar to amplify their presence through their Love for the stranger, Love for the widow, love for the orphan and love for all those who are affected by the pandemic  of poverty and anxiety. The only way to love ourselves and love God in empowering way is to share that love with our country men and women who face darkness.
This love needs to be translated into action. Like Jesus we need to multiply our loaves – of generosity. The Bishops  and parish priests appeal to each one of our families to share what we have with at least 50 poor families in every parish. 16 dioceses  and taking even 20 as minimum number of parishes we will have 320 parishes and each parish supporting 50 families will be 16,200 families. CBCM and KMSS will further target 5000 families nationwide. We can reach out 20,000 families – fulfilling  Jesus dream of "I was hungry, you gave me food'. Church is offering its buildings as quarantine Centre. When we asked for volunteers to accompany those infected, 35 sisters and 15 youth generously volunteered.  Jesus will appreciate them: "I was  sick, you accompanied me in my recovery." The church will be abundantly rewarded for her mission of Love.
Today's Gospel reminds us our salvation depends on just two commandments : Loving a living and liberating God and showing that love in action through our concern for others.  Doors of the Church may be closed.  But the doors to our heart can never be  closed. There is no mask for our heart. There is no handwashing of  our mission of love. There is no 'social distancing' in our mission of Love. Our  evangelization and Liturgy may be stopped. But our mission of Agape and Diakonia marches on. Because we will be judged by the commandment of love on the last days. Faith, hope and Love: Love lasts forever.
Stay Safe Stay Blessed.