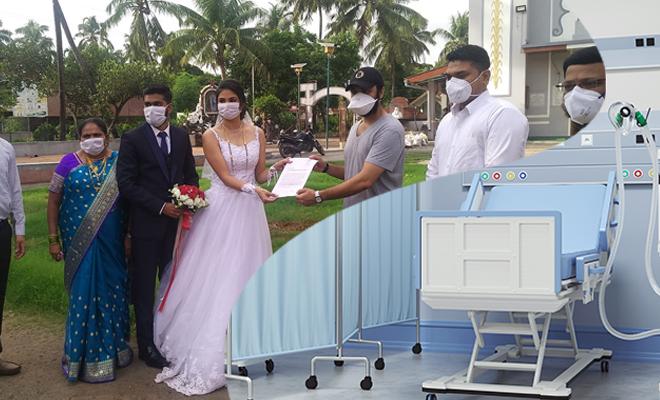 Mumbai, INDIA (RVA News) A newly-wed couple in Vasai near Mumbai, Maharashtra state of India have donated 50 beds to a medical centre in Mumbai for the Covid 19 patients on the occasion of their wedding.
After dating for eight years, Eric Lobo, 28, and Merlin Tuscano, 27, decided early this year they wanted to spend the rest of their lives together. They decided on a winter wedding with a guest list of 2,000. Then the pandemic struck and things changed.
On June 20, the couple exchanged vows in a simple ceremony with 22 guests, including family members, at the St Gonsalo Garcia church at Vasai. Instead of proceeding for a reception, the couple headed to the Satpala isolation centre where they donated 50 beds with mattresses and pillows and oxygen cylinders.
 The couple said, "Since the beginning of lockdown, we have been working on projects like arranging for trains for migrant workers and community kitchens. We talked to the Revenue Inspector and Sub Division officer of the district about the requirements of the COVID-19 centres and decided to pare down on the money we will spend on the wedding and instead contribute to the Covid care centre."
"We will also be donating oxygen cylinders to the centre," said Merlin.
With the pandemic raging, a covid care centre is the need of the hour. We are glad that the money saved from our wedding has been put to good use, said Eric. The couple, who are partners in an event management company, pared down expenses to bare minimum. They decided to skip  the pre-wedding functions. The couple did not accept gifts, and Merlin's wedding gown too was taken on rent.
Scaling down their wedding plans came naturally to the couple who has been at the forefront of voluntary work as soon as the pandemic stuck. They have also cancelled plans for the honeymoon.
With 1,35,796 COVID-19 cases, the state of Maharashtra continues to be the worst-affected state in the country with 61,807 active cases and  6,283 deaths due to the Covid 19 virus.