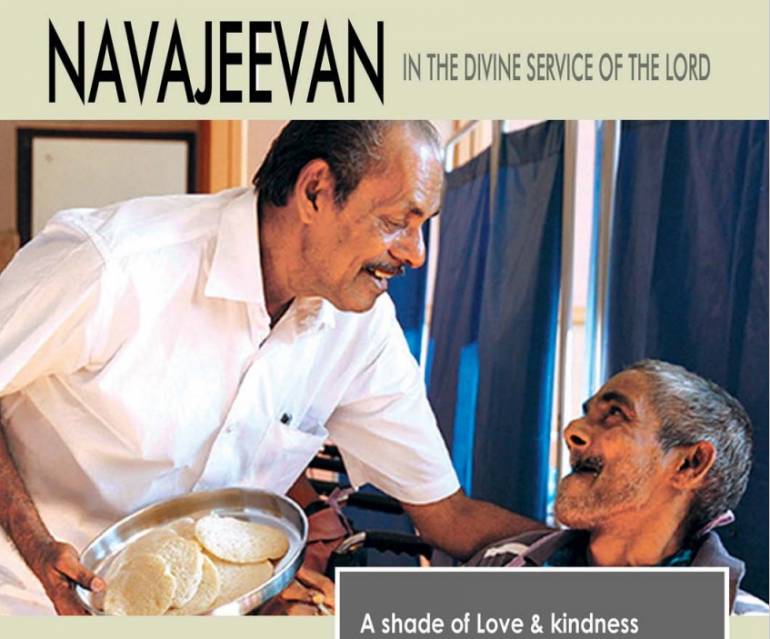 This is the amazing story of an ordinary man who feeds underprivileged people and shelters psychiatric persons on daily basis.
A good Samaritan in real life, P U Thomas (73) is best known for his program of free food packet distribution to the poor patients and by-standers at the local Government hospitals in Kottayam in the South Indian state of Kerala.  Equally thrilling is his rehabilitation program Navajeevan (New Life) center for the wandering psychiatric patients.
Started at the age of 17, his services have grown over fifty golden years. Today he distributes up to 5000 food packets daily and takes care of over 200 wandering mentally ill patients at the Navajeevan center. This is not to mention over 3000 mental patients who returned to normal life through his love and care and have rejoined their dear and near ones in different states of India.
The Stirring of the Spirit
Born in 1949 in an ordinary family, in the nondescript village of Villoonni in Kerala, his extraordinary life-journey began with an inner call he received when he was himself undergoing a prolonged treatment in a hospital. In 1966, still a teenager, he was admitted in the general ward of the Medical College Hospital in Kottayam for 22 days for surgery and treatment for peptic ulcer. Seeing the struggle of patients with no money even for a singly meal, he gave his own food packet to the patient lying next to him.
Returning home, the question of "what next" lingered in his mind. His own pain instilled compassion in him for the hungry and the suffering.  From his own act of kindness, he received a divine call of serving the poor. Ever since he is leading a saintly life, feeding the hungry and providing refuge to the homeless.
P U Thomas has been a man on a mission for over fifty years to serve the underprivileged and improve the quality of life of the poor and downtrodden.
"No one seemed to care for the helpless patients groaning with pain. It really moved me and I resolved to do something for them once I was out of the hospital. How I wished for a job in the hospital," Thomas said in an interview.
Initially he got a job as a book binder in a press. Yet he found time to visit the hospital daily to help and pray for the poor patients, spending his meagre earning to buy food and medicines for total strangers.
In 1969, he secured a job in the medical college, first as a Gardner, and then as the worker in the hostel and later as a part-time attendant in the ward for the mentally ill.
Thomas would buy food from nearby hotels and take it to the wards all by himself and give to the poor patients and by-standers. He continued to provide food packets for, initially with his own earnings and soon with help and support from coworkers and people of good will.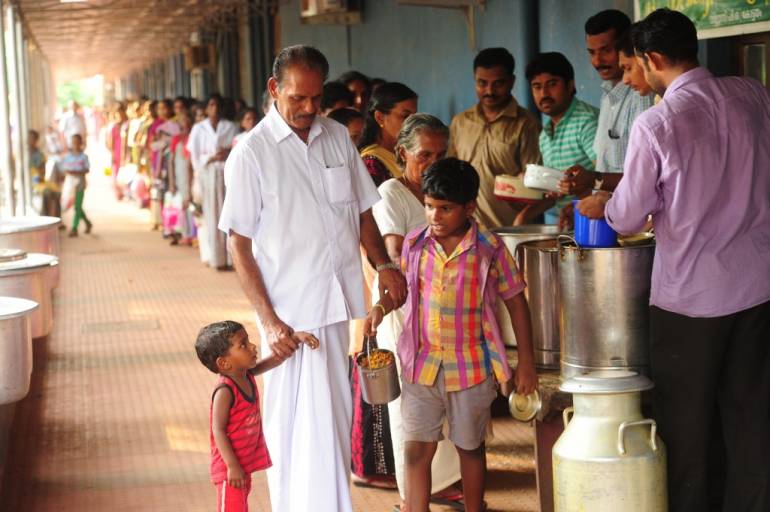 Compassion takes the Form of Food Packet
He started a food distribution system in 1970.
What started in a humble way has now grown into a highly organized free food distribution system. Today he provides free home cooked meals daily to more than 5000 people, mostly patients and their bystanders in different Government Hospitals such as Medical College Hospital, Children's Hospital ICH, District Ayurveda Hospital and Homeo Hospitals in Kottayam.  
"We could never have dreamed of tasting a full meal complete with side dishes like the one he serves us with love. This is all beyond our wildest imagination,' says Kunjannamma, one beneficiary.
Initially he bought food from hotels, then started preparing food in the kitchen of a nearby house and took it to the hospital in an autorickshaw. Later he rented a building to serve as a kitchen.
Thomas depends completely on divine providence and generosity of people: "I have never begged for money to carry out my work. Whenever the need arose, I would pray to God for help. He made sure that money did not stand in the way. Total strangers would come to me and hand over cash."
It goes against his principle to accept aid from the government, religious bodies, or foreign agencies.
During the pandemic lockdowns he provided food for even those in hospitals from rich families or travelers stranded.
P U Thomas is the fore-runner of this great initiative. He has inspired several individuals and organizations to begin free food distribution in the state and elsewhere.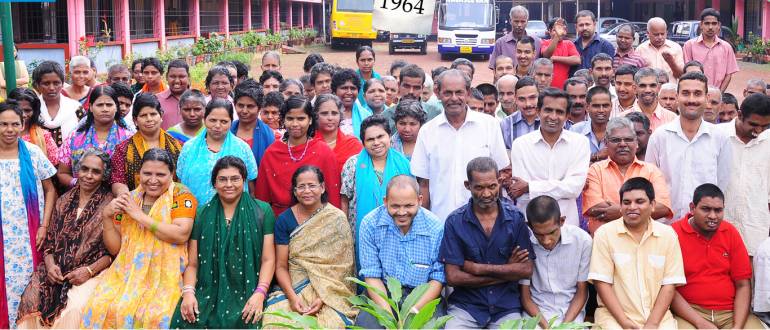 Rehabilitation of Psychiatric Patients
While serving as an attendant at the mental health ward of the medical college, he happened to witness a reunion scene in 1982, which prompted Thomas to take up the cause of the mentally ill.
Police brought a Sabarimala pilgrim from the neighboring state, who lost his memory and mental equilibrium due to some sudden shock. Police then published his photos in newspaper; Seeing the photo his brother came searching for the man.  
Thomas later recalled: "On getting a hug from his brother, the deranged man regained his memory and got over his madness. They left the hospital elated. It was a touching moment. I thought of all those lunatics wandering in the streets without anyone to care for them and made up my mind to do something for them."  
In 1991, the Navajeevan trust was formed with an intention to rehabilitate the wandering mental patients. It started functioning in the P C Lodge, near Medical College and later in 1995 moved to building owned by the trust at Panampalam near St. Alphonsa's birth home.
In 1995, he travelled to Calcutta to meet Mother Teresa and spent 10 days in prayer and services in Mother's Home. The meeting with Mother Theresa, spending days with her and receiving her blessing, helped abundantly in the growth of Navajeevan.
Manubai, a native of Rajasthan state in North India, was the first inmate of the Navajeevan Trust. Thomas found her feeding on the waste remains of the medical college hospital. Navajeevan gave her a new lease of life. On 6th September 2016, Manubai peacefully breathed her last. The life of Manubai, gave an insight in the mind of Mr. PU Thomas to build a home for the helpless and lonely.
Today Navajeevan shelters 200 inmates, who are unaware of their caste or religion and most of them even do not know their own names. He accepts all homeless and depressed individuals missing care from anyone but not those rich ones who can pay.
Other Projects
His social service activities have branched into many other areas like Ambulance service, blood donation campaigns, Health care and cleaning drives, Support to victims of natural calamities, School healthcare programs, 'Clean and Green' ecological campaign, support systems for deprived neighborhoods. His latest initiative 'Oru Kaithangu' (a Supporting Hand) provides 3000 rupees each to 100 kidney patients every month, started in the golden jubilee year, is a great success. Another venture, 'Kanivin Karangal' (Hands of Compassion), inculcates spirit of love and compassion in the heart of students. It has reached nearly 120,000 students.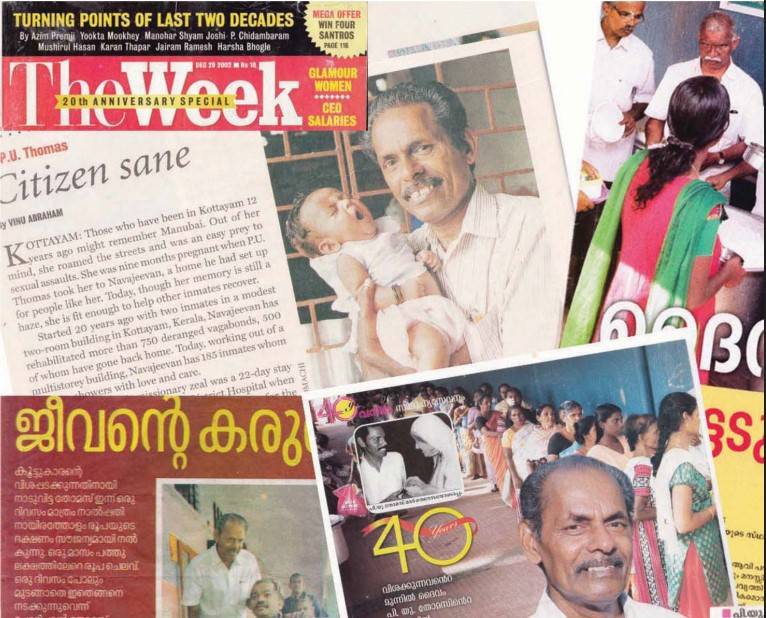 Awards And Recognitions
A class 7 drop-out, P U Thomas has now lectured and spoken from thousands of stages internationally and has won many awards and accolades. All major political, religious and cultural leaders have visited his centre.
Several magazines, newspapers and channels have narrated his life story and celebrated his achievements through cover stories and features.
He has received over 200 awards "In recognition of outstanding services rendered to the public", the latest being the SPANDAN Award of 2022 for excellence in Social Service by a layperson, given by the Syro-Malabar Church Synod in August 2022.
Pope Francis presented him Bene Merenti (meritorious) medal in recognition of his selfless service. Kerala Catholic Federation gave him "living saint" award in 2018. Justice K T Thomas described him as a man attested by God with a divine signature.
A Symbol of Human Goodness and a "Living Saint" for Our Times
P U Thomas, the founder and director and the life-line of the Navajeevan trust is a symbol of human goodness in our times, and a "living saint." He has always been a source of relief and comfort for the destitute, lonely and the grieving people and a source of inspiration for all who yearn to express their love of God through service to the neighbor.
His autobiography titled "Pothichoru" (Food packet)- a life story explaining the different situations through which he passed on and the rare moments of divine providence, can be called a gospel of Mercy for the present day and the days to come.
His love and trust in God are contagious. There is no doubt that this Good Samaritan, through his comforting and consoling touch, occupies a place next to God in the hearts of suffering men.
The amazing and inspiring story of an ordinary man's extraordinary life stands out as a symbol of Christian love and prayer and a beacon of human goodness.
---
Radio Veritas Asia (RVA), a media platform of the Catholic Church, aims to share Christ. RVA started in 1969 as a continental Catholic radio station to serve Asian countries in their respective local language, thus earning the tag "the Voice of Asian Christianity."  Responding to the emerging context, RVA embraced media platforms to connect with the global Asian audience via its 21 language websites and various social media platforms.