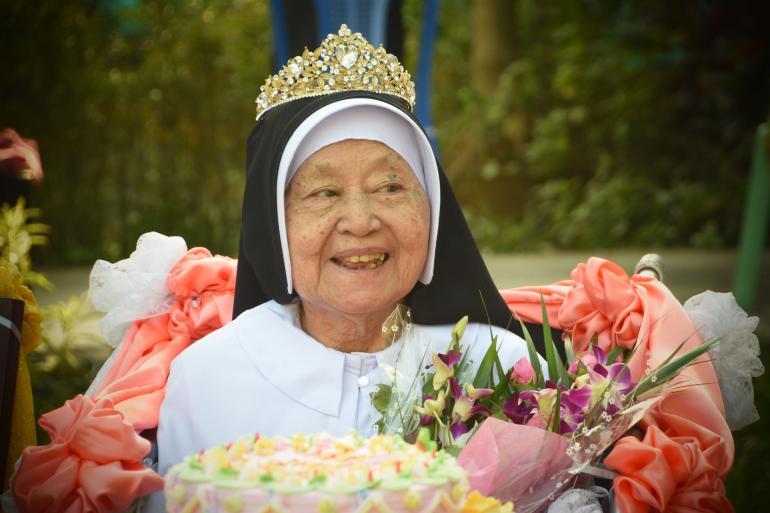 There are many great women in the world. Sister Mary Joseph, former superior of the Congregation of St. Francis Xavier Sisters, was one of them.
She was born in Kanazogone village in Wakema Township, Ayeyarwaddy Region, Myanmar, to U Bote Ni and Daw Maria. She was their third child.
The nun was elected Mother General of the congregation from 1994 to 2000 and served as a religious sister for 61 years.
Sister Mary Joseph had fallen asleep in Christ on December 1 at the age of 85.
Her long life was a good example not only for the members of her congregation but of the community of the faithful in Myanmar.
Sister Sarah, who is currently doing mission in the United States, remembered the social and spiritual life of the late Sister Mary Joseph.
"Mother Mary was an eloquent nun. She knew well how to pray for others. She encouraged and taught the young sisters," said Sister Sarah.
"She was a superior who understood others. She told me how to practice and live my religious life," she added.
In 2017, when Sister Sarah went back to Myanmar, Mother Mary encouraged her to nurture her spiritual life. "She was a spiritual nun," said Sister Sarah.
Mother Mary Joseph was also gifted with languages.
"When I was in my pre-postulancy, she taught me the English language," recalled Sister Robina Nant Ei Phoung.
Mother Mary encouraged Sister Eiphoung to brave difficulties.
"When you have a difficult time staying with your fellow nuns, do not keep them as difficulties but keep them as something as precious as gold," Sister Eiphoung recalled Mother Mary saying.
"Thank God because through [your sisters] you have an opportunity to practice virtues," recalled Sister Eiphoung.
Sister Leonie Mary said Mother Mary Joseph was a nun with great humility and love. She would encourage other nuns to serve God and His people with humility and love.
When Sister Leonie Mary last met Mother Mary Joseph in December 2019, the Mother told her that those who are always looking for opportunities to serve others with great humility and love will never be forgotten or abandoned wherever she or he goes.
Sister Leonie recalled how Mother Mary advised her "to be yourself, try your best, and give back to God with all your best."
"Sister Mary Joseph was always there, ready to help those who are in need of help," said Sister Patricia May Oo Khaing.
As a superior general, she proved that she was a servant leader. 
Sister May Oo Kaing remembered the day she received the religious habit.
"She picked up my clothes as I needed to change them quickly and folded them and kept them tidy. I can't forget her humility expressed in her loving service," said Sister May Oo Khaing.
Sister Veronica Nant Hgyi Lar said Mother Mary Joseph was a hospitable nun. She would greet everyone she meet. She would also give thanks anyone even for a small matter.
"When she spoke, she would encourage others," said Sister Nant Hgyi Lar. "She could pray a lot and knew well how to endure her sufferings," added the nun.
Sister Marcella Ada, a mistress of the novitiate, recalled how Mother Mary would teach novices how to love Jesus and others concretely. 
She was herself a good example for the novices in living the Word of God and in helping them to practice it daily.
"She was always with a smile whenever I visited her," said Sister Ada.
She recalled Mother Mary telling her: "I offer my sufferings as prayer and penance for you and your novices and all the people as well."
Sister Ada said Mother Mary's way of life reminded her of St. Francis Xavier's words: "It is impossible to find a saint who did not take the "Two Ps" seriously: Prayer and Penance!"
"I am grateful to God and to her for enlightening my mind and heart to value and live a life of prayer and penance in my small way," said the nun.
Mother Mary Joseph will always be remembered in the hearts of the members of the Sisters of St. Francis Xavier. - Raymond Kyaw Aung / RVA News