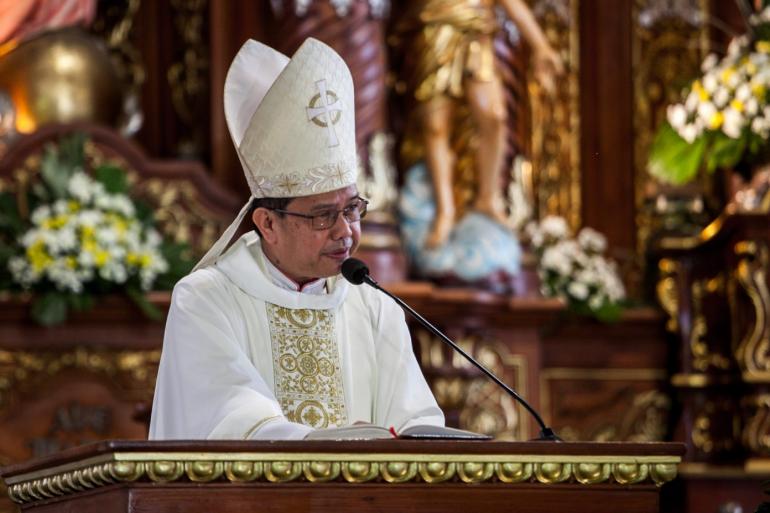 Bishop Roberto Mallari of San Jose
Dearest brother priests, the Radio Veritas Asia family, and all those who are united with us through live streaming who desire to show solidarity to our brothers and sisters who are experiencing political unrest or moments of darkness. 
Our readings today remind us how fast sin and evil can creep into our system and influence a lot of people leading to their destruction. During this time of the pandemic and crises, we cannot allow hopelessness and fear to overcome us because we are more vulnerable and volatile to the influence of evil men!
In the Gospel, a simple experience of forgetting bread for the journey made the apostles worry. Jesus just miraculously fed a group of five thousand people (Mark 6:41-44, Matthew 14:17-21), and then on another occasion four thousand people (Mark 8:1-10, Matthew 15:34-38)! 
How easy it is to forget what God has already done for us and to doubt what he promises to do for us in the future as well. Scripture tells us that "perfect love casts out fear" (1 John 4:18). Ask the Lord Jesus to fill your heart with his love and to increase your faith in his provident care for you. 
These times are moments to count blessings and to recognize God's faithfulness and providential love in our life. Ask the Lord Jesus to fill your heart with his love and to increase your faith in his provident care for you.
Thus, Jesus warns us to beware of the "leaven" which corrupts mind, body, and soul. Jesus cautioned the disciples to beware of bread that corrupts, such as the "leaven of the Pharisees." When leaven ferments a lump of wet dough, it transforms the dough and changes it into life-enriching bread when heated. 
Left-over dough which had been leavened (but not baked) would rot and become putrified. For the Jews, leaven was a sign or symbol of evil influence. It signified anything which rots and corrupts, not just physically but spiritually and morally as well.
Jesus warned his disciples to avoid the way of the Pharisees and Sadducees who sought their own counsels rather than the mind of God. They were blinded by their own arrogance and were unable to recognize the truth and wisdom which Jesus spoke in the name of his Father in heaven. 
What kind of leaven (spiritual, moral, intellectual) do you allow to influence your ways of thinking and living? Jesus sharply contrasts the bread and leaven which produces life, especially the abundant life which God offers through Jesus, the true bread of heaven, with the bread and leaven which rots and corrupts mind, body, and soul.
This is exactly what Cardinal Charles Bo is saying in a message sent very recently through the [Federation of Asian Bishops' Conferences]: "We are journeying through most challenging times of our history. I write with love towards all, seeking a durable solution, praying for an end forever to the periodic darkness that envelops our dear nation."
Addressing the people of Myanmar, he says: "I appeal to each one of you, stay calm, never fall victim to violence. We have shed enough blood. Let not any more blood be shed in this land. Even at this most challenging moment, I believe that peace is the only way, peace is possible. There are always nonviolent ways for expressing our protests. The unfolding events are the result of a sad lack of dialogue and communication and disputing of diverse views. Let us not continue hatred at this moment when we struggle for dignity and truth. Let all community leaders and religious leaders pray and animate communities for a peaceful response to these events. Pray for all, pray for everything, avoiding occasions of provocation."
To both the military and the civilian leaders, he begs them to facilitate dialogue and work together for peace. He begs them: no more violence, no more bloodshed!
To the international community, he says: "We beg you do not force concerned people into bartering our sovereignty. The international community needs to deal with the reality, understanding well Myanmar's history and political economy. Sanctions risk collapsing the economy, throwing millions into poverty. Engaging the actors in reconciliation is the only path."
As we unite ourselves with people of Myanmar, let us consciously recognize before God that during these times we are most vulnerable to the influence of sin and evil and thus let God's love, peace and unity fill us through the power of the Holy Spirit; believing truly that with God everything that we hope for is possible. 
If God is for us and with us who can be against us? We put into the hands of the Father our lives during this time of the pandemic, and also the people of Myanmar as they pass through this most challenging moment of their history as a country.
Homily of Bishop Roberto Mallari of San Jose, chairman of the Office of Social Communication of the Federation of Asian Bishops' Conferences, during the Solidarity Mass with the People of Myanmar for Radio Veritas Asia on February 16, 2021.